prweb.com



New York City's New Green Workforce Duo
Envirolution's Win-Win Campaign and CleanEdison Announce Partnership for NYC's Emerging Green Economy. Two New York City Agencies, Manhattan Borough President's Office and New York Department of Small Business Services, Deliver Big Apple Green Collar Jobs Training Programs.
New York, NY (PRWEB) August 13, 2009 -- Two city-endorsed leaders in green workforce training - Envirolution, a New York-based sustainability consulting and green workforce training non-profit and CleanEdison, a national green building consulting and education provider, - today announced a partnership to produce the most qualified green collar jobs candidates in New York City, those who possess both field experience and training for accredited certifications.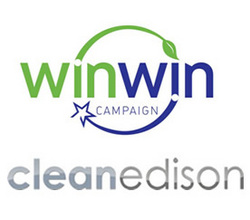 On August 10, the highest ranking interns among Enivrolution's young adult-led energy efficiency campaign kick-off the CleanEdison partnership by taking sponsored seats in the nationwide green certification trainers three-day course.
The 12 Win-Win Campaign interns are concluding a summer of hands-on energy efficiency analysis provided to New York City's local small business communities. Their CleanEdison-sponsored workshops in Leadership in Energy and Environmental Design (LEED) and Building Performance Institute (BPI) training and test preparation will help prepare them to enter the workforce armed with the appropriate credentials.
"Right now, I can't just train the best and the brightest, I need to hire them too. Green industry jobs are playing a crucial role in our nation's economic recovery," Avi Yashchin, CEO and founder of CleanEdison said. "I'm eager to review Win-Win's latest grads. They have a great track record with us, as well as with the city."
With its city council poised to adopt mandatory energy efficiency benchmarking in the form of four local building code laws called the Greener, Greater Buildings legislation, New York will follow the new benchmarking trend already passed into law in Washington D.C. and the state of California. The city's goal is to get commercial buildings on an "energy diet" by making their monitored energy consumption data publicly available, as a driver in the real estate leasing market.
Win-Win's Spring 2009 pilot semester recruited 15 students as green workforce trainees ranging in age from 17 to26. These selected interns engaged in the energy mapping of 1,160 businesses in a 55 square block assessment zone in the Lower East Side of Manhattan. Of those businesses, 126 were selected for outreach and 36 of the small business owners elected to receive Energy Efficiency Assessments from Win-Win.
Through reporting submitted by Con Edison's Targeted Demand Side Management program, Win-Win removed 25.68 metric tons of carbon per year as a direct result of energy efficiency upgrades undertaken through the program's recommended statewide incentive. Of the 36 small businesses assessed, the total potential carbon-reduction is 597.4 metric tons. And Win-Win's ongoing project management training will provide assistance to those businesses eager to engage incentive upgrade programs with the Fall campaign session.
The Manhattan Borough President's Office endorsed the Win-Win Campaign upon completion of its pilot session and includes Envirolution as a partner in Scott Stinger's Go Green initiative.
In July of 2009, CleanEdison was awarded a significant grant from the NYC Department of Small Business Services to implement green training in the corporate sector. CleanEdison's success in hiring experienced Win-Win graduates for its growing business was the impetus for the partnership between these two organizations. Additionally, all of CleanEdison's courses are approved by many CEU organizations including American Institute of Architects (AIA), Building Owners & Managers Institute International (BOMI), Building Performance Institute (BPI), International Facilities Managers Association (IFMA), and National Council of Examiners for Engineering and Surveying (NCEES).
As part of their training, Envirolution's Win-Win community energy analysts have already attained experience in administering energy audits and providing project management of cost-saving solution programs for small businesses in the Lower East Side. Emerging to compete in the job market prepared by CleanEdison's certification training will provide the accreditation these interns need to build a professional green workforce in New York City.
Envirolution (envirolution.org) - the managing non-profit of the Win-Win Campaign - is a 501 (c)(3) Sustainability think & do tank located on New York's Lower East Side. The organization is dedicated to providing young adults from diverse communities with green career development opportunities through sustainability education, civic engagement and job training programs. Envirolution was founded in 2007 by recent Yale graduates, Alex Gamboa, Executive Director, and Antuan Cannon, Developmental Director, to provide sustainability consulting and to build programs that have positive environmental, economic, and social impacts.
Win-Win Campaign (winwin.envirolution.org [winwin.envirolution.org) is a green workforce and small business economic development initiative that empowers young adults to be the drivers of sustainable change in their communities while gaining the real world, new economy skills necessary to obtain green jobs in the future. Through training, mentoring and fieldwork, participants become Community Energy Analysts (CEAs) who provide access to affordable, measurable environmental and financial benefits, through energy efficiency assessments for small businesses and other institutions in their neighborhoods. Win-Win is endorsed by the Manhattan Borough President's LES Go Green Initiative, Lower East Side Business Improvement District, Consortium for Worker Education, Manhattan Chamber of Commerce, Fourth Arts Block Cultural District, Asian American/Asian Research Institute, Green Depot, and Con Edison.
CleanEdison (cleanedison.com) is the nation's largest provider of LEED Training and BPI Certification. CleanEdison offers everything in the green space from Commercial Energy Audit Services to LEED Consulting to help identify energy-saving opportunities in commercial buildings. CleanEdison's energy auditors are experts in evaluating new ways to reduce your operating costs and increase your building's performance, focusing on improvements and incentives which bring CleanEdison's clients' ROI inside of 3 years.