Waste to Resource: Seattle Moving on Eco-Industrial Districts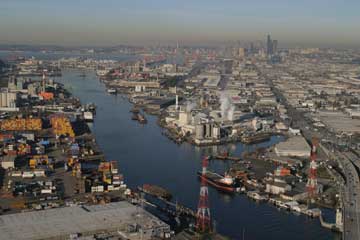 The "eco-industrial district" concept in Seattle is moving – slowly – from concept to sustainable reality.
The Metropolitan King County Council last month adopted a proposal that calls for a partnership with the City of Seattle (which resides in King County) to create Eco-Industrial Districts in the city and throughout the county.
The idea is to assist development in Seattle's industrial core areas, such as the SoDo district or in the Duwamish River corridor in south Seattle by coordinating various public sector initiatives on sustainable communities.
That coordination is an opportunity for local industries to create green jobs and share resources that will benefit and business and the environment, said County Councilmember Larry Phillips, who sponsored the partnership measure. Development of EIDs "will advance our regional vision for land and resource conservation, energy efficiency and shared energy resources, recreational amenities, and transit access," he said.
EIDs can vary in size, from a few properties to a large industrial community, within which manufacturers located in close proximity use waste products from one firm as an input resource for a neighboring firm, and where workforce housing, recreation and public transit are located nearby.
The districts help create sustainable communities by using waste byproducts, maximizing resources, promoting green job creation, applying sustainable manufacturing practices, and creating livable communities.
Under an EID partnership, the jurisdictions are hoping to "identify opportunities for innovation and collaboration within Seattle's industrial center, provide public sector support for those innovations that may face legislative barriers and partner with industrial companies to support existing businesses and attract new business to the region," a King County statement said.
The county manages regional utilities including transit, solid waste and wastewater treatment, and has resources – otherwise known as waste byproducts – to offer for this effort, including heat from wastewater trunk lines, treated wastewater effluent, mixed municipal waste and solid waste recyclables.
The legislation calls for the County Executive to coordinate these resources to ensure that they will be available to interested cities as they move forward and develop EIDs or other facilities that promote the sustainable use of resources and development of green communities in urban areas throughout King County.
Seattle's City Council is working with the Seattle Office of Economic Development and the Mayor to draft an EID scope of work this fall.
It's a potentially far-reaching step towards a more sustainable approach to developing the city's most industrialized – and polluted – areas.
A likely first candidate is the Duwamish River corridor, which is home to an EPA Superfund site as well some grandiose and expensive development ideas from environmentalists and community activists. The industrial district along the Duwamish River valley and surrounding neighborhoods is one of the largest contiguous industrial areas in the U.S., encompassing about 4,000 companies and 70,000 employees.
An EID program there would strengthen the city's industrial core while improving the environmental quality of the Duwamish, said Council President Richard Conlin.
Can clean and green coexist with industrial grit?
Maybe Seattle's template will show the way to a new way of thinking about grunge.